Frequently
Asked Questions
Booking Policy
The Apollo Victoria Theatre, owned and operated by the Ambassador Theatre Group, maintains stringent public health protocols throughout the venue.
In order to continue prioritising the health and well-being of our patrons and staff, audience members are requested to wear a face covering within the venue, unless medically exempt.
The venue's recently refurbished full-fresh-air ventilation system ensures that everyone in the auditorium has 12 litres of fresh air per second, well above the recommended minimum of 10 litres per second.
Cashless payments, at-seat ordering/delivery and enhanced cleaning practices are all in operation. Hand sanitation stations are available throughout the theatre.
For full information, please visit www.atgtickets.com/help/health-and-safety/
General Questions
The performance runs for approximately
2 hours and 45 minutes, including a 20-minute interval.
The show is normally performed eight times a week, as follows:
Tuesday – Saturday evenings at 7.30pm
Wednesday, Saturday and Sunday matinees at 2.30pm
Please check at the time of booking for any changes to our regular schedule including extra performances, which are frequently added at times of high demand including School Holidays and Christmas.
Evening performances end at approximately 10.15pm.
Matinee performances end at approximately 5.15pm.
Please arrive promptly as latecomers cannot be admitted until a designated point in the performance, which is approximately 25 minutes after curtain-up.
THE APOLLO VICTORIA THEATRE
17 WILTON ROAD
LONDON
SW1V 1LG
The main entrance (and Box Office) is situated in Wilton Road opposite London Victoria Mainline and Underground Stations.
Please note: The Box Office is open from 12 noon on all performance days.
The theatre is located directly opposite Victoria Underground (and Mainline) Station, approximately a 1-minute walk away.
Three London Underground lines run through Victoria: the Victoria Line, District Line, and the Circle Line, which connects Victoria with other London mainline train stations (Euston, King's Cross, St Pancras, Liverpool Street, Marylebone, and Paddington).
For full cast information, click here.
Please note that the Producers cannot ever guarantee the appearance of any artist – which is always subject to illness, injury, statutory holiday entitlement and unforeseen circumstances beyond their control. The production makes every endeavour to ensure that the high quality of every performance is stringently maintained, and should any artist be indisposed their role will be taken by another experienced cast member and we greatly appreciate your support of them.
As changes to any live performance can occur at any time, we endeavour to ensure that the 'cast board' in the Wilton Road foyer of the theatre provides the most accurate reflection of the casting of any given performance from approximately 1 hour prior to curtain up.
The show is suitable for a general audience and contains no profanities. It is recommended for ages 7+. Children under 3 cannot be admitted.
All persons aged 15 and under must be accompanied by an adult and may not sit on their own within the auditorium.
Please note that loud noises, flashing lights, smoke effects, and strobe lighting feature in the production.
The Apollo Victoria is operating a timed entry system as part of its Covid-secure audience protols.
Please check your tickets and confirmation emails for details on specific entry times, but if unsure, to support the safe movement of customers around our venue, please arrive between 60 - 90 minutes before your performance start time.
For more information, please visit www.atgtickets.com/help/health-and-safety/
Latecomers can only be admitted at a suitable break in the performance, which is approximately 25 minutes after the start of the show. We urge all patrons to leave plenty of time to travel to the venue to avoid missing any part of the show.
Please note, no refunds are issued to patrons arriving late.
For the safety and security of all patrons, security personnel are located at the entrances of the venue and bag searches are in operation.
There is no specific dress code at the theatre. For all performances, attire should be comfortable and appropriate for the occasion.
The Apollo Victoria is not currently operating a cloakroom facility and therefore cannot accept suitcases, rucksacks or large bags. Small bags and coats may be stored under your seat. A left luggage facility is available in Victoria Station (beside Platform 8). Please note that the venue is not responsible for any loss or damage of personal belongings.
If arriving by Coach, please use the Vauxhall Bridge Road entrance to the theatre.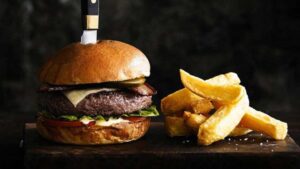 The area local to the theatre offers many excellent restaurants. Just two minutes from Victoria station is Nova, housing a diverse variety of dining options including Bone Daddies, Shake Shack, and Franco Manca.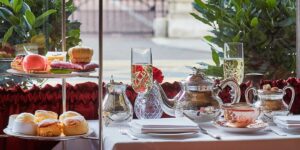 The five-star Rubens at the Palace, part of the Red Carnation Hotel Collection, is our official partner hotel and located opposite Buckingham Palace's Royal Mews.
Guests can stay in elegantly appointed Rooms and Suites, enjoy a 'Royal Afternoon Tea' in the Palace Lounge, cocktails and live music in the New York Bar and savour delicious cuisine in the English Grill and authentic flavours in The Curry Room.
The Rubens at the Palace
39 Buckingham Palace Road
London SW1W 0PS
Other Places to Stay
There are a wide variety of hotels located near to the Apollo Victoria Theatre, many of which are available below.
Please note that all bookings are made through a third-party operator.
Immediately pre and post every performance, and during the interval, a large range of official souvenirs are available at kiosks. All items can also be purchased at any time from our online shop.
Owing to the large number of requests, we are unable to offer any announcements anywhere within the venue, including from the stage, of special occasions including engagements, birthdays or anniversaries.
For reasons of health and safety, we are unable to offer any public access backstage.
Ticket Sales
BUY ONLINE
Click a performance on the calendar on the Book Tickets page
Tickets are available online 24hrs a day.
BY PHONE
0844 871 3001
Calls cost 7p per minute, plus your phone company's access charge
The Box Office at the Apollo Victoria Theatre will open from 12 noon on all performance days.
Every Wednesday at 10am, Wicked's 24 Front Row seats are available online for all performances in the following week (Tuesday-Sunday).
Tickets are £29.50 with no additional fees*.
Click Here to Book Front Row Seats 
The Box Office at the Apollo Victoria Theatre is open from 12 noon on all performance days and offers in-person sales for all other tickets, subject to availability.
*Tickets will be allocated on a best available basis, and are strictly subject to availability. Depending on demand, there may be a queue in operation ahead of release.  
The Ambassador Theatre Group (ATG) strives to ensure that all of its customers have the best possible experience when visiting their venue. For full information, including our schedule of access assisted performances, please click here.
Tickets can be purchased online from anywhere in the world via this site, either through the Theatre (ATG) or with no transaction fee via WICKED DIRECT.
ATG supports all major credit cards and Paypal.
WICKED DIRECT currently supports all major credit cards, Apple Pay and Google Pay.
Book With Confidence 
If any ticket holder, or anyone in their party, is unable to attend because of Covid-19 related illness, they can request to exchange their tickets up to 48 hours before the performance.
In the event of a performance cancellation, for whatever reason, all ticketholders will be entitled to a free exchange, a credit voucher or refund.
All performances will comply with all applicable Government and industry COVID-19 safety guidelines at the time of each performance. Further details can be found here
Please note that the Producers cannot guarantee the appearance of any particular artist, which is always subject to illness, injury and statutory holiday entitlement.
Bookings made via Wicked Direct will be fulfilled by Ingresso, our exclusive ticket partner. For any specific queries about tickets purchased via this channel, please contact Ingresso on customerservices_wicked@ingresso.co.uk 
If you have booked your tickets with ATG TICKETS and you need, for any reason, to contact their Customer Service Department, please click here.
For any queries about tickets purchased via WICKED DIRECT, please contact our ticketing partner Ingresso on customerservices_wicked@ingresso.co.uk